By Anne Drouet, Performing Arts Director
HKA Class of 2018 graduate and published musician Dylan Halbroth has been working with our IB DP Music students this month.
Background
After HKA, Dylan graduated with flying colours from DBs Catalyst, Institute for Creative Arts and Technology, Berlin. Since releasing his debut EP Against The Dying Light last year which highlighted the issue of mental health, Dylan has been busy developing a range of new works. Released today ( 25th March), the Darktifik Remixes is a collaboration with long time friend and artist Lake Artifik, where the two remix and produce each other's songs. Check it out and please share to support Dylan with his latest artistic achievement!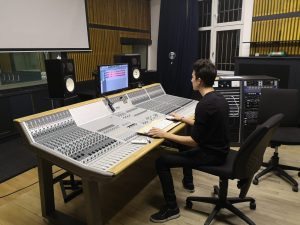 Giving back to HKA
Dylan recently took time from his hectic schedule to deliver two 90 minute masterclasses over two evenings to HKA's DP Music students. Now working as a freelance music producer, musician and composer for visual media, Dylan shared how he prioritises and manages his workload to expand his portfolio, establish connections and build his profile. Collaborating with creatives from around the world, Dylan is constantly driven by a desire to expand creative limits and create new sounds and musical genres. Students gained a strong insight into Dylan's journey through university, learned about making and monetizing music with new digital platforms and how a future in the music and entertainment industry could look. One of the students commented "So interesting to see a future path that's really not that far away for us. But also to see so much growth will occur in those next 5 years." 
How HKA continues to inspire Dylan
This was Dylan's first time working with students and after, he confessed that it was an experience he thoroughly enjoyed. When asked what he had learned at HKA had inspired him the most, he answered, "One thing I've learned from my time at HKA that's helped me almost everyday since is the importance of being open minded and curious. No matter what I achieve, being open minded to learning new things from anyone is a value I nurture everyday.
Guest speakers working with students is always such an inspiring experience, a big thank you to Dylan for sharing his experience and perspectives. Check out Dylan's work Against the Dying Light – the EP, Against the Dying Light – the documentary, his latest release,  Darktifik Remixes and learn more about HKA alumni here.