POST SECONDARY PATHWAYS
Our comprehensive post secondary programme supports students to identify and pursue a range of opportunities after graduation.

Selecting a post secondary pathway is one of the major steps in a student's educational journey. Starting in Grade 9, every HKA student is encouraged to consider their strengths as learners and where their interests might lie after graduation. Through a range of one-on-one meetings, small group workshops and evening events, students and their parents work together with our counsellors and curriculum coordinators to determine each child's best-fit pathway to graduation.

As they approach their final year as students at HKA, students continue to engage in these personalised conversations to explore the variety of options available to them based on their interests and priorities for life after graduation. Whether they are applying for university, preparing for a gap year or beginning a job search, HKA students are encouraged to pursue their passions and interests as individuals.

UNIVERSITY COUNSELLING
We are committed to helping students and their parents make informed decisions about university planning and university selection. Determining and applying for the best-fit college or university is complex and our goal is to prepare students to identify a good match for their interests and needs, recognising that there will be more than one "right" option. Students take the lead in the steps of research, planning and decision-making supported by parents, teachers and our university counsellor. Our approach is comprehensive, providing individual counselling as well as a wide variety of resources regarding entrance exams, degree options and admissions procedures
Learn more
COLLEGE AND UNIVERSITY VISITS
College and university representatives from around the world regularly meet with students, interested parents and counsellors through on campus and virtual visits. Students and their families are encouraged to attend presentations and university fairs to learn more about university systems in different countries, requirements for admissions and degree offerings. HKA alumni and former students are valuable resources to current students, sharing their experiences with the application process, relocation to various countries and transition into university life.

HKA University Profile
SCHOOL RECORDS
Our Registrar maintains the official records and transcripts at HKA. If you are a graduate or former student and need us to share official records with your current or prospective university, please submit a request to our Registrar by filling out this form. The registrar can also provide copies of other types of school reports and can be contacted by email at registrar@hkacademy.edu.hk.
FOR UNIVERSITY REPRESENTATIVES
If you are a college or university representative, we invite you to visit us and meet our community! We encourage students and parents to look beyond rankings and choose schools which will provide a positive and appropriately challenging academic experience. With this in mind, when you visit HKA we ask that you focus on the strength of particular programmes, opportunities for growth, internships and majors in addition to national or regional rankings. Information about employment and graduate school acceptances are great topics as well. We also encourage you to speak about the selectivity of your college/university with the prospective applicants. Please complete this University Visitor Application Form so that we can arrange your visit accordingly.
"I can say that I wouldn't be where I am without a lot of the people who are a part of the HKA community. They have supported my passions and ambitions and I feel like even though I've now graduated, HKA created this environment where you actually miss the school itself. I know that when I come back to visit Hong Kong, I won't just come back to visit my family, I will also come back to see my HKA family."
Bianca De Leon, Class of 2019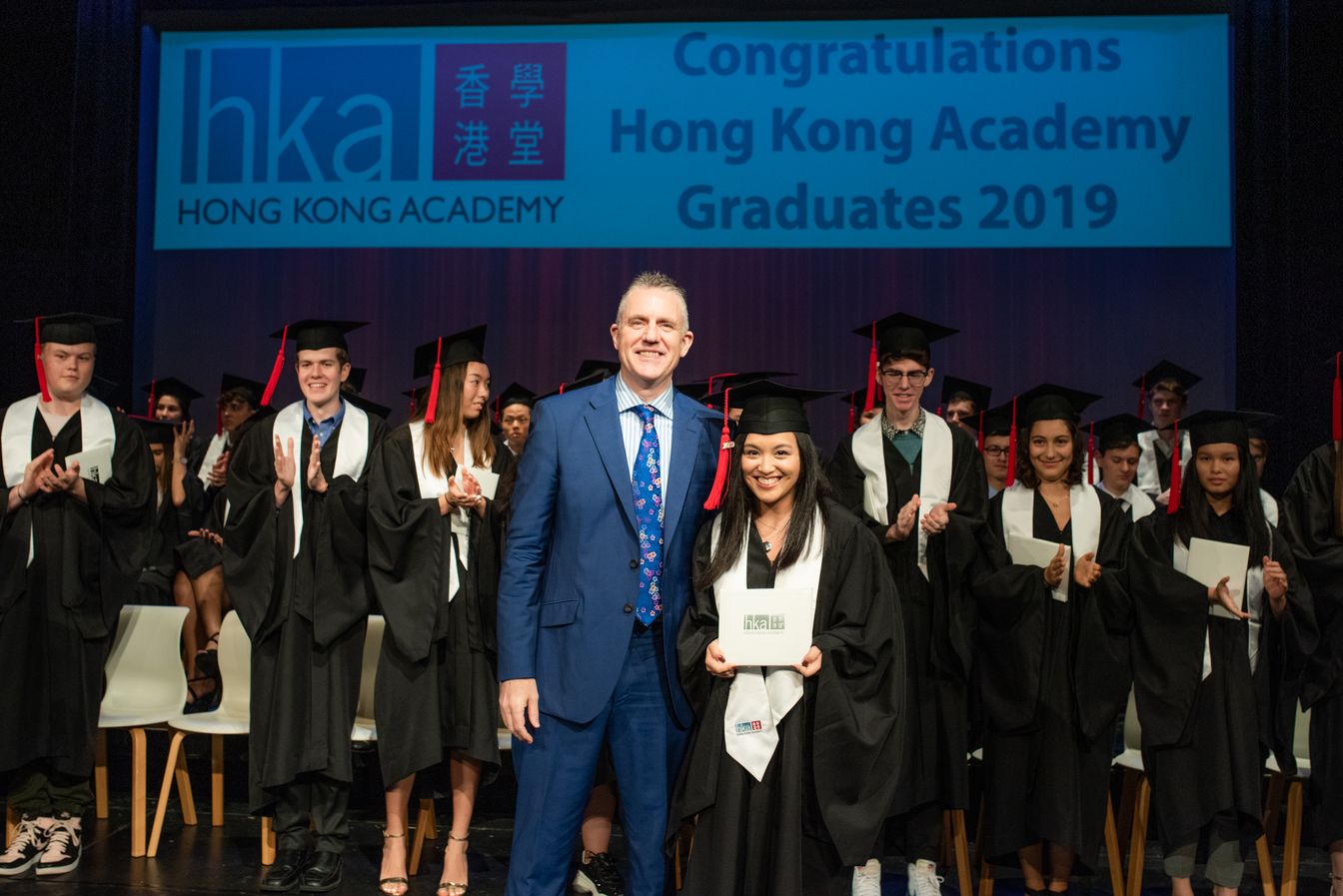 Learn more about our alumni
and their post secondary pathways