By Simon Roberts, Athletics Director and Personal Project Coordinator
As an IB World School, we recognise the important progression of learning that takes place from the PYP to the MYP to the DP. Throughout their education at HKA, students are challenged to develop and independently apply the IB Approaches To Learning (ATL) which are; thinking skills, social skills, communication skills, self-management skills and research skills. One of the key assessments through which students demonstrate their use of ATL skills is the MYP Personal Project.
The Personal Project is the culminating experience of each student's learning journey within the MYP. HKA students begin to formulate their ideas at the end of Grade 9, and at the start of Grade 10 they develop a product based on an area of interest or passion as well as a report in which they reflect on the whole process. This independent project continues throughout the school year, and each student's creation is truly authentic, personal and meaningful to who they are as a learner and a person. 
Through the Personal Project Showcase, we are able to celebrate and highlight the diversity of achievements within this year's cohort. From running blogs to clothing brands, cookbooks to musical performances, artwork to health products, students have expanded their knowledge and understanding in areas which excite them as learners. Within these products, there is rich evidence of how each learner has developed their use of ATL skills and how our rigorous international education comes to life at Hong Kong Academy. As they look ahead to Grade 11, these students are well prepared for their transition into the IB Diploma and have the confidence to apply ATL skills in their future studies.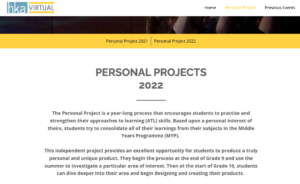 Explore the Personal Project website