EVENTS
As a community school, we recognise and value the importance of coming together to explore, contribute and celebrate.
We host a wide range of events each year that are designed to engage students, faculty, staff and parents as well as the broader community. Our approach to parent education is comprehensive, and we offer a series of opportunities for our parents as learners, empowering them as active partners in their child's learning journey. Events are often initiated and led by student groups and parent committees, providing many entry points into participation for every community member.

Upcoming event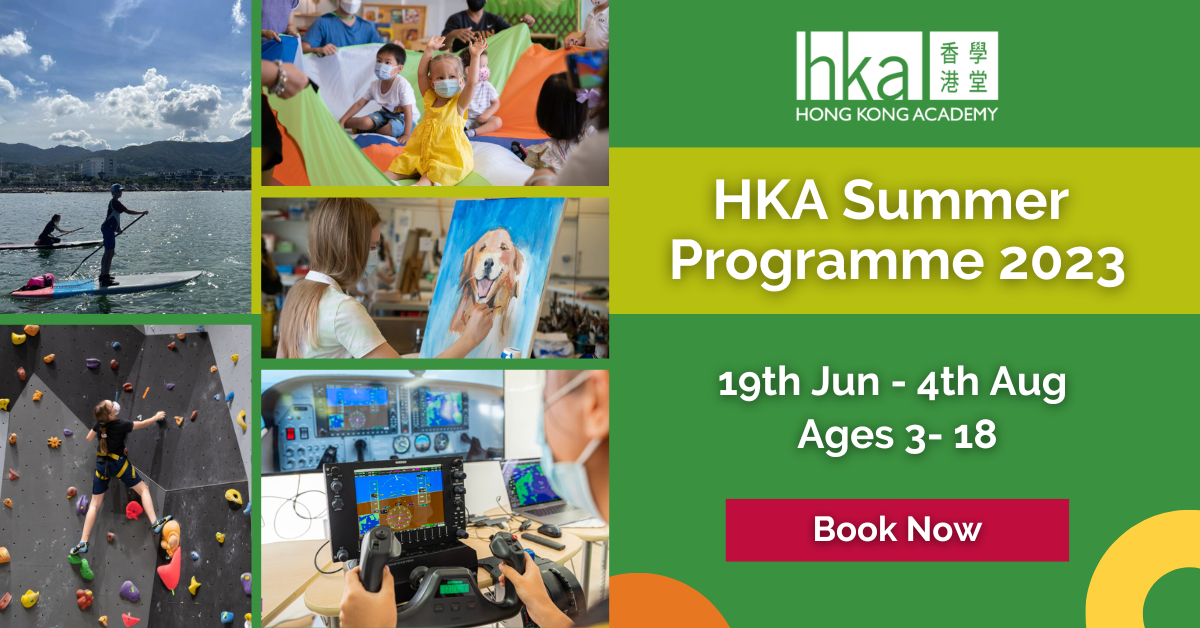 Whether you are looking for creative, sporting or blended options, Hong Kong Academy has you covered. Partners include Asia Pacific Soccer Schools, Babel Film, HKEVA Volleyball, Just Climb, Proactive Sports, Skydance Academy, Top Flight and more. There are also a variety of multi-activity, sports, creative and craft programs run by HKA teachers and a couple of week-long camps exploring the Sai Kung country park.

This high-quality programme runs from 19th June - 4th Aug for ages 3-18 years with a cost of HK$920-5,000 per weekly course inclusive of overnight courses.

lEARN MORE AND REGISTER
COMMUNITY CELEBRATIONS
The HKA Community Fair is the largest event on our school calendar, with over 1000 community members coming together for a day of performances, activities and food. The Lunar New Year Assembly, Staff Appreciation Lunch and End of Year Assembly instill pride and joy about being members of the HKA community. Additional smaller scale events such as coffee mornings, evening socials and fundraising dinners bring parents and staff together and provide social opportunities for building connections and forging friendships.
Learning is a focal point for all members of the HKA community, and that includes our parents. Parent education is designed to support parents through every stage of their child's development. Workshops explore topics such as wellbeing, digital citizenship, literacy and learning through play. Curriculum events contextualise how the IB PYP, MYP and DP are implemented at HKA and how these programmes foster conceptual and contextual learning. Post-secondary information sessions offer insights into the range of opportunities that are available to students upon graduation. Through parent education, we nurture a strong home-school partnership that benefits every child at HKA.

Motivated by a desire to engage in meaningful and significant action, HKA students develop, design and lead initiatives that demonstrate their growing identities as global citizens. Students organise excursions, fundraisers and performances focussed on the issues which they feel passionate about, such as refugee rights and protections, plastic use and waste production, homelessness and stray animals, often in collaboration with local or global partners. Our students approach these initiatives with an educational mindset, seeking to raise awareness beyond the event to motivate sustained involvement and action towards these issues by HKA community members.