SECONDARY SCHOOL
GRADES 11 & 12
Every learner is empowered to pursue their pathway to individual excellence in their final years of Secondary School.

As students enter Grade 11, they are beginning to prepare for their transition to life beyond Secondary School. Whether they intend to continue with further study at university, pursue a practical apprenticeship, complete national military service or explore their passions through a gap year, our flexible and bespoke approach to programme development provides learners with the resources they need to aspire to their goals. At HKA, we offer a wide range of course selections and co-curricular opportunities that are both relevant to our students today as well as designed to launch them into their next steps after graduation.

Every graduate earns the HKA Diploma, a credit-based certification that is validated by our accreditations with the Council of International Schools (CIS) and Western Association of Schools and Colleges (WASC). All graduates also earn the Global Citizen Diploma (GCD) Certificate, an external endorsement of their commitment to the values of global citizenship.

The majority of students in Grades 11 and 12 choose to pursue external recognition through the International Baccalaureate Diploma Programme (IB DP), an internationally recognised two-year programme that culminates in an externally administered examination and assessment process.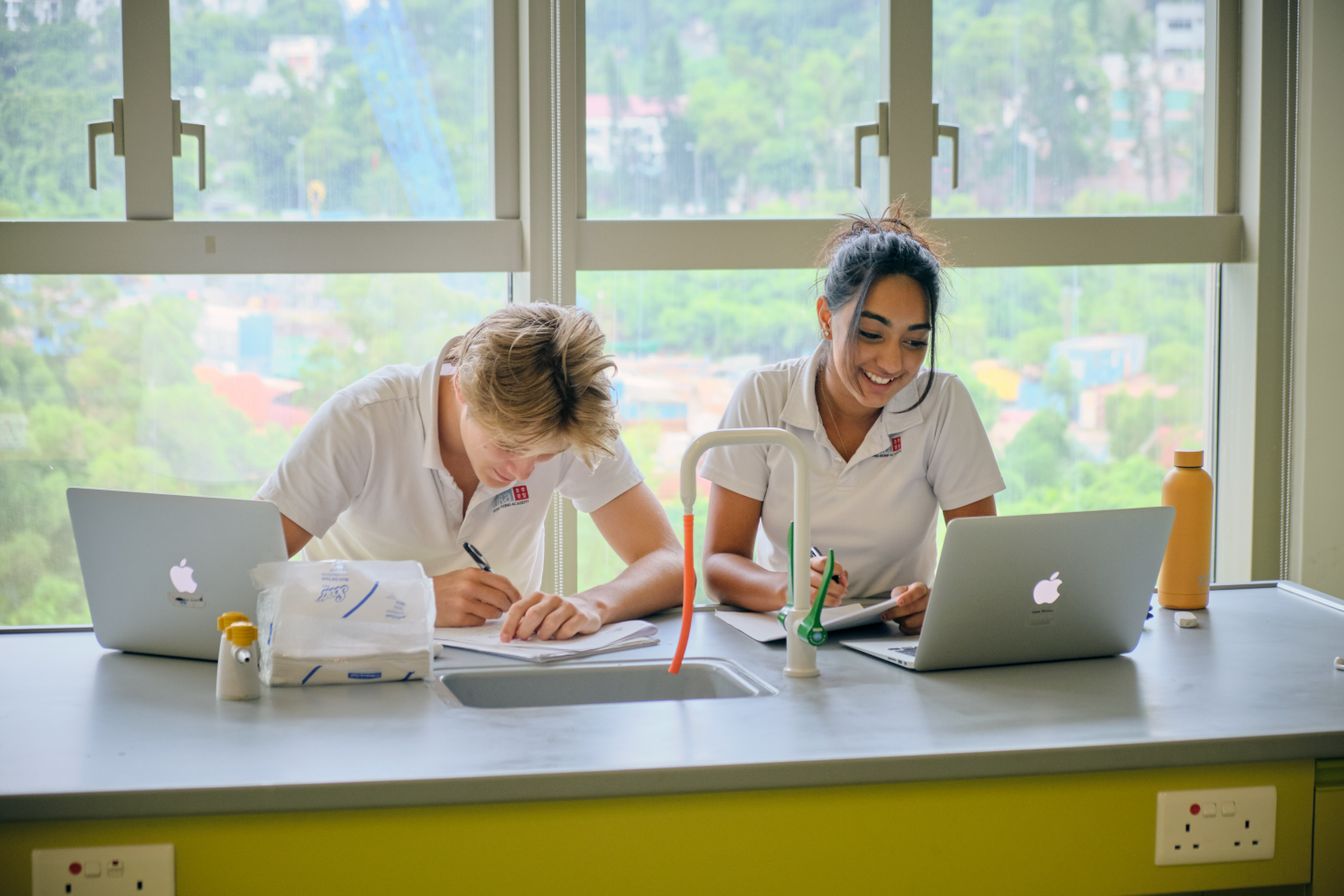 The hka diploma
The HKA Diploma is a credit-based recognition that students earn over the course of four years. The credit requirements are set in alignment with North American university entrance requirements and accreditation standards, and HKA graduates can use their HKA Diploma to apply to post-secondary institutions. In Grades 9 and 10, students earn credits based on their semester grades in every IB MYP course, and must meet programme requirements in each subject area in order to earn these credits. In Grades 11 and 12, students have the flexibility to select high school or IB DP level courses in each subject area, and students can opt to complete a work experience placement to gain valuable practical experience in an area of possible future employment.
EXTERNAL RECOGNITION THROUGH THE IB DIPLOMA
The IB DP is a two-year programme designed to prepare students for study at universities around the world, often with advanced credit. The IB DP requires students to select a combination of six courses for study, three of which are pursued at standard level (SL) and three at higher level (HL). Courses at SL and HL differ in amount of content, types of assessments and hours of instruction.

At HKA, course offerings and programmes of study are developed each year based on cohort interest and post-secondary requirements. We endeavour to accommodate student preferences and supplement our taught courses with online offerings through Pamoja Education.
RIGOROUS INTERNATIONAL EDUCATION
Additionally, all IB DP students must complete the IB DP core, which includes:
Extended Essay, an independent research essay related to one of the subjects the student is studying;
Theory of Knowledge, a course that examines critical thinking and ways of knowing;
Creativity, Activity and Service, a set of self-directed opportunities identified and created by students to enhance their personal development.

Assessment in the IB DP is externally mandated and moderated. Students complete a number of internal assessments over the course of their two years of study and the IB DP culminates in a three-week examination session during which students sit written examinations developed and assessed by the IB.
Read our Profile for University Applications to learn more about our pathways to graduation.
CELEBRATING GLOBAL CITIZENSHIP
HKA students are encouraged to engage in responsible action throughout their learning journeys and all students must complete the GCD Certificate in order to graduate. Designed to validate the ways in which students use their passion and perseverance to make positive contributions to their local and global communities, the GCD allows students to showcase up to 16 elements of global citizenship through the development of a multimedia portfolio. The process of reflection and re-examination of their experiences benefits students in the moment and also provides them with rich documentation of their learning journeys that they can share as a part of their post-secondary application process.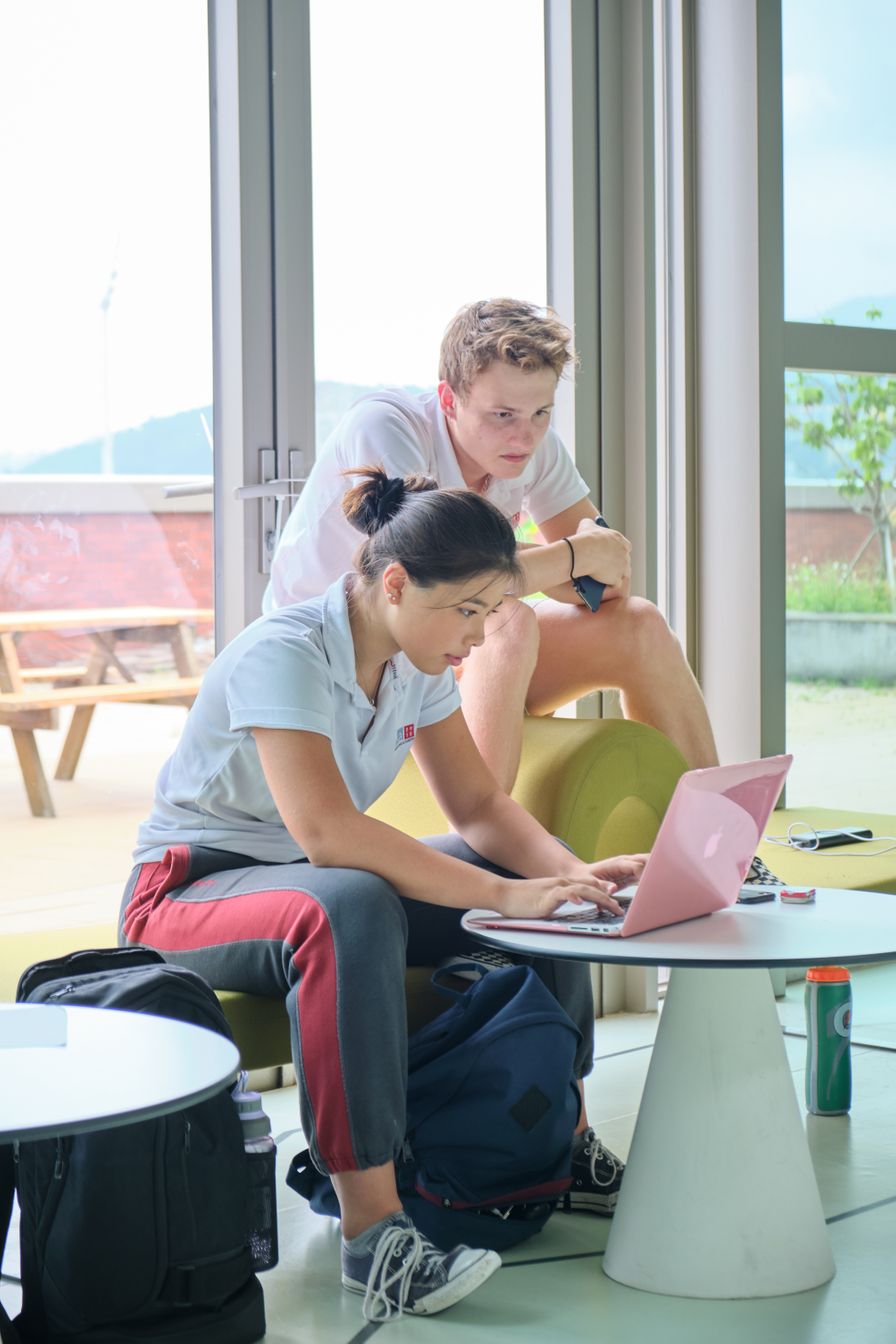 SELF-DIRECTED WELLBEING
Our programme continues to provide a holistic focus on intellectual, social, emotional, digital and physical wellbeing through to graduation. In Grades 11 and 12, students participate in wellbeing classes that are facilitated by a wellbeing specialist teacher and focussed on topics most relevant as they approach adulthood, such as navigating social situations and managing finances when living away from home. These sessions are supplemented by regular advisory sessions during which students have the opportunity to check in with their advisor and small peer groups. Physical education sessions are self-directed, with students creating fitness plans at the start of the semester, identifying targets and goals for a healthy lifestyle and regularly reviewing their progress with their Physical and Health Education teacher. Our robust co-curricular programme provides a range of sports, performing arts, service and action and student-initiated clubs, and we encourage students to continue to find balance and pursue their passions beyond the classroom.
Our graduates are ready to embark upon whatever adventures they might choose, maintaining a strong network of support here at HKA and with their global peers.

From the moment they step foot on our campus, every HKA student is forever a part of the fabric of our community. Our programme empowers learners to pursue their pathways to individual excellence, ready to contribute their creative and critical thinking skills to a sustainable future, and when they leave HKA these learning journeys continue. Recent graduates are studying a broad range of subjects such as architecture, biochemistry, business, mathematics, music and philosophy at universities around the world.

Post Secondary Pathways
Alumni